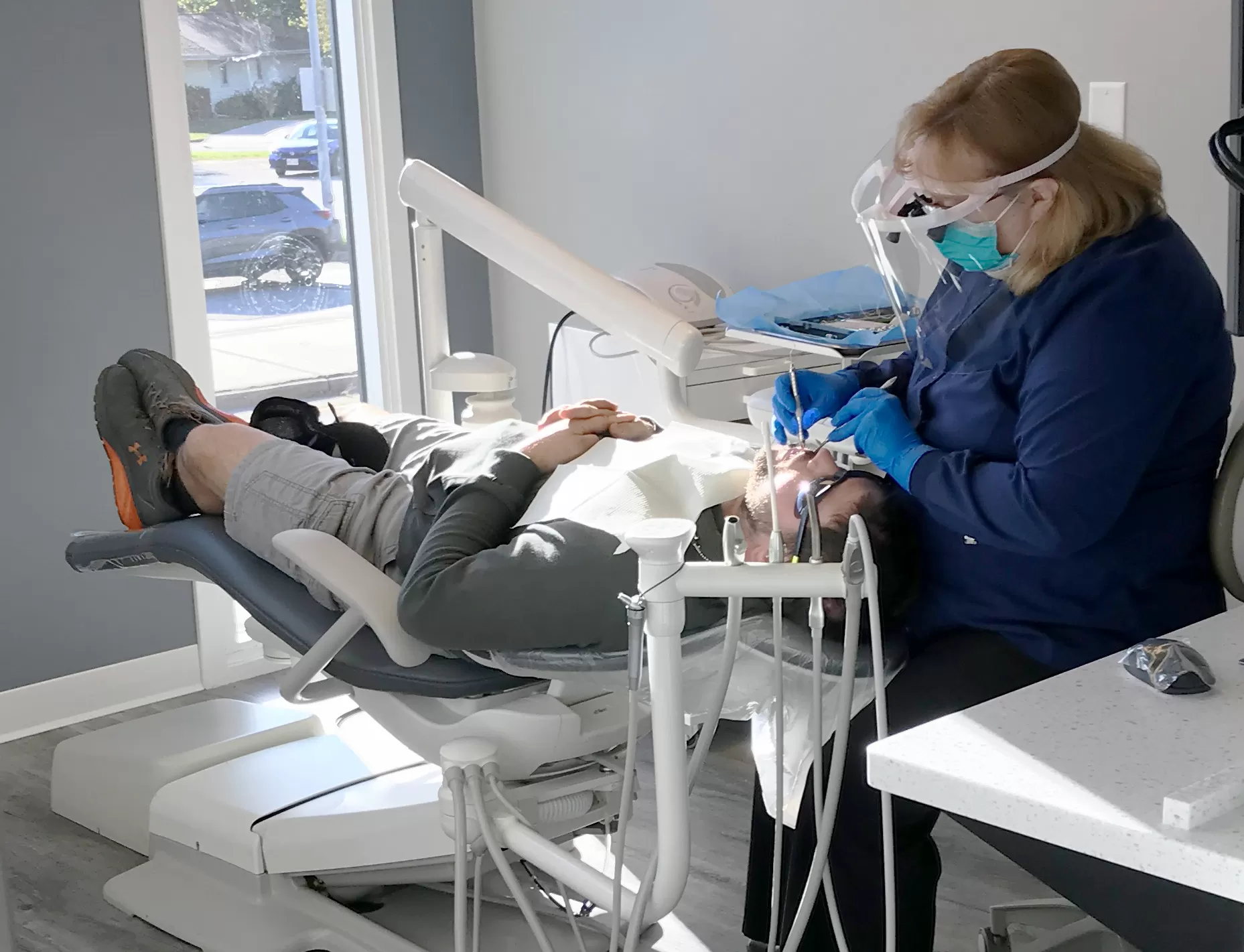 Providing the Merrill community with personalized dental care for all ages.
Merrill Smiles offers a wide range of services with the highest quality of care in a welcoming, family-friendly environment. Whatever your dental needs, our experienced dentists and team will provide you with full transparency as we diagnose, plan, and treat on the way to your healthiest possible smile. From delivering regular hygiene services to dentures to dental implants, we can get you from where you are to where you want to be with your oral health.
Please contact our office at 715-536-7104 for more information about comprehensive dentistry in Merrill, Wisconsin, and its surrounding areas and to set up your appointment with Dr. Charles Sowieja. We look forward to having you as a new member of our patient family!
Children's Dentistry
Dental Cleanings & Exams
Fluoride Treatment
Preventive Care
Tooth Extractions
All-On-4 Dental Implants
Guided Implant Placement
Implant-Supported Dentures
Surgical Implant Placement
Dental Bridges
Dentures & Partials
Full Mouth Reconstruction
Root Canal Therapy
Tooth-Colored Dental Fillings
Single Visit Dental Crowns
General & Family Dentistry
General and family dentistry forms the cornerstone of oral healthcare, catering to patients of all ages. These dental professionals focus on a comprehensive array of services, from routine check-ups and cleanings to restorative procedures like fillings and crowns. They also play a pivotal role in preventive care, educating patients about proper oral hygiene practices and dietary choices to maintain optimal oral health. With a commitment to promoting healthy smiles and addressing a wide range of dental concerns, general and family dentists serve as trusted partners in ensuring the longevity and well-being of their patients' teeth and gums. Their expertise extends beyond just treating existing issues; it encompasses the vital role of prevention, fostering the foundation for lifelong dental health within families and communities.

Cosmetic dentistry is a branch of dentistry that focuses on enhancing the aesthetic appearance of a person's teeth and smile. Unlike traditional dentistry, which primarily addresses oral health and functionality, cosmetic dentistry is primarily concerned with improving the visual aspects of the teeth. It encompasses a wide range of procedures and treatments designed to correct imperfections such as stained, misaligned, chipped, or missing teeth. From teeth whitening and veneers to dental implants and orthodontic treatments, cosmetic dentistry offers numerous options to help individuals achieve the smile they desire.
Implant dentistry has revolutionized the field of dental care by offering a highly effective and long-lasting solution for individuals with missing teeth. Dental implants are artificial tooth roots made from biocompatible materials like titanium, surgically placed into the jawbone, which then fuse with the bone through a natural process called osseointegration. This provides a stable and robust foundation for the attachment of custom-crafted prosthetic teeth, such as crowns, bridges, or dentures. Implants not only look and feel like natural teeth, but they also function as such, allowing individuals to enjoy a full range of activities, from eating their favorite foods to smiling with confidence. Implant dentistry is a versatile treatment option, suitable for single tooth replacements, multiple missing teeth, and even full-mouth restorations, offering patients a wide range of choices to meet their unique needs.
Orthodontics is a specialized branch of dentistry that focuses on the diagnosis, prevention, and correction of misaligned teeth and jaws. It plays a crucial role in enhancing both the aesthetic appearance and functional health of an individual's smile. Orthodontists are highly trained professionals who use various orthodontic appliances, such as braces, aligners, and retainers, to correct dental irregularities, including crooked teeth, overbites, underbites, and crowded or spaced teeth. The goal of orthodontic treatment is not only to create a beautiful smile but also to improve oral health, as misaligned teeth can lead to issues like gum disease, tooth decay, and even jaw pain.
Restorative dentistry is a branch of dental practice dedicated to repairing and restoring damaged or missing teeth, ultimately aiming to enhance both the function and aesthetics of a patient's smile. This field plays a crucial role in addressing a wide range of dental issues, including cavities, tooth decay, chipped or cracked teeth, and tooth loss. One of the primary objectives of restorative dentistry is to help patients regain their oral health and maintain proper dental function, which is essential for chewing, speaking, and overall well-being. Dentists specializing in restorative dentistry utilize a variety of techniques and materials, such as dental fillings, crowns, bridges, dentures, and dental implants, to rejuvenate patients' smiles while ensuring that they can eat, speak, and smile with confidence.